Range of Fragrance
ABP can offer a range of fragrances to suit many applications. Whether it's a match for an existing product or something new, modern or just different the combination of our in-house development team and manufacturing facilities can provide what you're looking for.
At a concept /development stage ABP offer a fast turnaround on our briefs with samples available in both the concentrate or the finished application for immediate evaluation.
In addition ABP can contract manufacture your fragrances for you. If you're looking at short term overflow solutions or long-term partnerships our streamlined operation will keep your costs to a minimum and your quality consistent from batch to batch.
Manufacturing
Our current facilities offer the option of making small scale batches to multiple ton batches of any fragrance type. Traditional mixing tanks, trained staff and stringent quality controls allow for prompt production times for batches from 5 kilo to 5 ton in a single batch.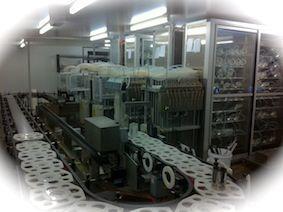 To assist our everyday requirements for prompt samples and production times abp have invested in a state of the art automatic compounding machine, reminiscent of those only seen at multinational organisations. The only example of its kind in Australia our 'Robot' can weigh to a tenth of a gram and reduce production times considerably to guarantee consistency, quality and short lead-times.
To learn more about our fragrance capabilities and our team of experts please read more under Products - Fragrances and About - ABP Lab